Resources that Support Resilience
Did you know that profitteering from healthcare was illegal until 1973?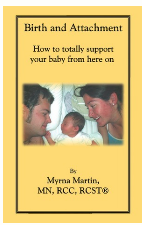 BIRTH & ATTACHMENT,
by Myrna Martin
Available as booklets and e-book downloads.
In English, Spanish, French and Portuguese.
Click on image to purchase.
Interviewed by Kate White
This four part series is: 1. An Overview 2. What Do Babies Need? 3. What Do Adults Need?
4. How do the insights of pre- and perinatal psychology help to meet the needs of a healthy family?
A 4 part youtube series with Ray Castellino
WE COMMUNICATE THROUGH ENERGY
Youtube video with Bruce Lipton