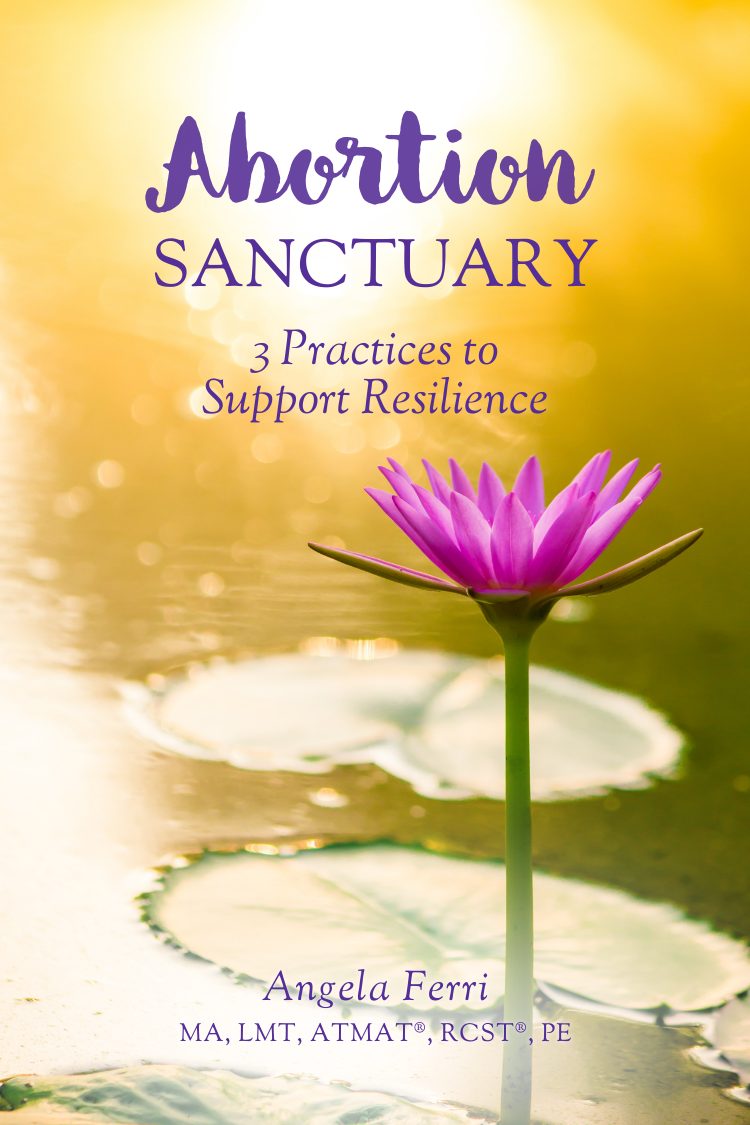 Given the right tools, the body/emotions/spirit will heal. You already bring valuable skills and knowledge to this process, learned from your previous life experiences. The practices in Abortion Sanctuary will build upon them.
My intention is to guide you to develop an appreciation for the benefits of being loving, mindful and nurturing to yourself around the transformational experience(s) of abortion. While some of the practices seem simple upon first glance, over time they will have a profound influence on improving the quality of your experiences.
75 pages
Abortion Sanctuary digital download 
     3 Practices to Support Resilience
The Abortion Sanctuary digital download provides non-judgemental support after having had an abortion.
This digital download workbook provides a safe space to explore your experiences. Abortion is a challenging experience. The flood of feelings and thoughts before, during and after, are often overwhelming. Sometimes the experience creates numbness within. And with quickly shifting hormone levels, depression can set in. Oftentimes, what's needed is a place of sanctuary.
If you are looking for a way to navigate back to a more balanced, loving, empowered sense of yourself, the exercises in this workbook provides a gentle, expanding and proven approach. This workbook supports women who have had abortions engage practices that nurture resiliency. Abortion often leaves a woman disoriented, vulnerable and isolated. The practices offered here help you to settle your nervous system. They will show you how to orient in potentially overwhelming situations so that you will be able to focus on the way forward. They will help you name no-win situations while engaging appropriate layers of support. They are intimately personal, and will help you beneficially shift how you are able to meet the world.
The 3 Practices offered here; Resourcing, Tracking Sequences, and Working with Double Binds, will assist with particular aspects of this process. Take a moment to orient to the reasons for each of them:
Resourcing – We are often working with internally and externally challenging feelings when we speak of our abortions. Identifying resources to support you as you engage these practices will make your journey a more gentle, efficient, and deeper experience. 
Fortunately, you likely already enjoy people, places and things that support you. The practice of Resourcing will help you recognize and name them, and will encourage you to consciously expand your Resources so that you can create a more resilient circle of support.
Tracking Sequences – An unplanned pregnancy and the subsequent experience of abortion is disruptive and disorienting. Learning to track sequences offers a way to recover from that disorientation. It works like this: your abortion experience, like all events in our lives, has a sequence of unfolding. Tracking this sequence helps you re-orient to your life, with more understanding. By realizing where you are in a process, you can make sense of past and current events; then orient toward next steps.
Working with Double Binds – Many of us who have had abortions have chosen to do so, at least in part, because we did not have access to more than one of the following: physical, emotional, financial and/or spiritual support. This made the reality of welcoming an infant impossible for us. This chapter will help you discover and name no-win situations; ancestral Double Binds that have shaped how you have had to orient to life to survive. The practices shared will further help you engage layers of support, which, in turn, will help you build resilience to meet life circumstances, generally.
Angela Ferri captures the essence of working through the potential turmoil of abortion in a way that transforms the energy of struggle into new vitality for your life. Her insightful writing, thoughtful exercises and clear information make this book a precious treasure of support to embody and savor over time. I highly recommend it!
This approach has been so needed, and Angela has done an amazing job capturing the essence of this situation in a very insightful and helpful way. A must for anyone who works with women and families.
Just wanted to let you know that I started reading your book and I absolutely love it! Pages 4-5 "My Story" feels like you are writing about me. Thank you for sharing your story! …I feel/felt frozen inside since abortion, numb to pain and happiness…Thank you for sharing your beautiful book!